CardioLogic Recognised as Healthcare Pioneers for "Mawi" Holter Device in Early Arrhythmia Detection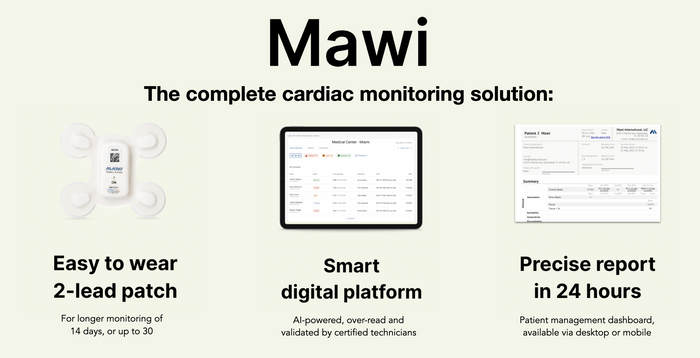 Mawi user Dr. Zoriana Bilous Awarded Prestigious Honour at Arrhythmia Alliance's World Heart Rhythm Week for the Innovative Cardiac Monitoring Solution
Dr. Zoriana Bilous, MD PhD, and Miss Faye Singleton, CardioLogic's Marketing Manager, have been honoured with the prestigious award for their pioneering report on the revolutionary cardiac monitoring solution, Mawi. The complete cardiac monitoring solution uses 2 X-shaped vectors to help overcome signal-to-noise limitations and provide continuous, uninterrupted data, recording for up to 14 days.
In the case study report, which is linked below, Mawi highlighted the advantage of holter devices in detecting supraventricular tachycardia (SVT). The Mawi is a discreet, lightweight patch that gives patients freedom to continue with their daily routines and activities without limits. Therefore, the Mawi enables the detection of both short paroxysmal atrial fibrillation (PAF) and longer episodes. The patient underwent a three-day ECG recording analysis using the device. No episodes of PAF were found within the first 24 hours of recording. During day two of recording, the first episode of PAF was detected with another episode highlighted during recording day 3. Therefore, the general convenience of Mawi enables long-term monitoring to detect arrhythmias that single ECGs, or 24-hour monitoring could miss.
The accolade was presented during an award ceremony hosted by the non-profit organisation Arrhythmia Alliance at The Palace of Westminster. Arrhythmia Alliance, a global advocate for heart rhythm disorders, initiated the SVT Pioneers report to inspire healthcare teams worldwide to enhance outcomes and quality of life for individuals with SVT. The condition is characterised by rapid heart rhythm fluctuations that often leave patients breathless and anxious. However, diagnosing SVT becomes challenging due to its unpredictable nature, making it difficult to identify during a traditional electrocardiogram (ECG/EKG) or standard 24-hour monitoring.
The report presented by Miss Singleton and Dr. Bilous sheds light on how CardioLogic's cardiac monitoring solution, Mawi, has the capacity to detect arrhythmias that can go undetected with single ECGs or 24-hour monitoring. By extending the monitoring period to up to 14 days, Mawi provides valuable insights into the irregular heart rhythms associated with SVT, allowing for more accurate diagnosis and effective treatment planning.
Miss Faye Singleton expressed CardioLogic's joy at being recognised as SVT Pioneers, stating, "CardioLogic is thrilled to receive this esteemed honour and proud to have our findings showcased in the report. The report underscores the effectiveness of portable ECG devices as invaluable tools in screening and detecting cardiac arrhythmias."
Mrs Trudie Lobban MBE Founder of Arrhythmia Alliance says "Millions of people daily suffer with worrying palpitations, hearts racing, breathlessness and overwhelming feelings of panic, for some it is so disabling they cannot work, exercise or lead normal active lives. Living in fear as to when the next attack may occur only adds to the ongoing anxiety and stress. Yet for many treatments restores the heart to its normal rhythm. Accessing experts and appropriate treatment can be challenging so identifying centres and publicising their work will help patients receive the latest treatments leading to better outcomes."
View the full case study report here:
https://www.linkedin.com/feed/update/urn:li:activity:7075442079933329409
Visit Cardiologic for more information on Mawi: https://www.cardiologic.co.uk/mawi