05 May 2020
COVID-19 Catalyses Creation of New Staff and Patient Tracker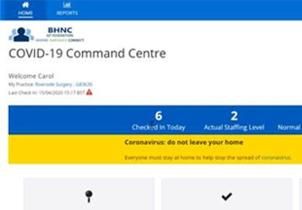 Bexley Health Neighbourhood Care (BHNC) have joined forces with a global tech company to build and pilot an innovative patient and staff tracker in the midst of COVID-19.
The powerful but simple tool, developed with Appian, enables clinicians and managers from across the NHS and wider health and social care to view and input real-time information about their staff and a complete patient journey, including information about their health and wellbeing.
The all-encapsulating app will eventually be used across multiple health and care settings and has potential for widespread adoption across the private sector too.
Having been trialled on c.50 members of staff and leaders in general practice, the tool is set to be rolled out across c.11 Care Homes in the borough, enabling multidisciplinary teams, including GPs and social workers, to access up-to-the-minute information on their patients and residents. The digital tool will support preparation and delivery of the Primary Care Network Enhanced Health in Care Home service specification.
Just three weeks into the project, the app has already attracted attention from NHS England's System Transformation Team and BHNC are initiating conversations with them to showcase its potential as a long-term tool to support PCNs and in the shorter term Covid-19.
How the app came about
Tumsilla said we were already working with Appian looking at back office solutions across our PCNs, starting with automating call and re-call and DNA letters across general practice. Mapping of these processes came just before Covid-19 and we had to look at diversifying how to use digital technology to support our practices and patients across the whole health and social care system in a coordinated way.
Appian, technology partners for BHNC, had already developed a staff tracker for their own global workforce to better understand their whereabouts and health and wellbeing status during the pandemic.
In the spirit of supporting the NHS, the company then shared their innovation with BHNC and supported them with a partner organisation, Convedo UK, to develop a bespoke version for the NHS.
Richard Hammond, Head of UK Public Sector at Appian, commented: "Building upon our previous work with BHNC, Appian is honoured to be trusted to help, at this time of crisis."
Working on agile principles on the bespoke app for its design and delivery, Tumsilla, Darren and Dr Cheryl Leung, clinical lead on Transformation for BHNC, alongside members of the local social care team have seized the opportunity of a crisis to accelerate innovation that will be just as powerful when life returns to the 'new normal'.
The app enables staff across the federation to check in each morning, say how they are, request additional support if needed and record their COVID-19 status. It also enables real-time tracking of information about PPE supply and other vital equipment, operational difficulties, staffing levels, COVID-19-related incidents and the level of pressure the practice is under, through opel scoring.
The app allows for data to be recorded in real-time and is able to push out automated reports in the required format to CCGs and sitrep reports. It enables managers to have a 'helicopter' view of their staffing, activity and to respond in a timely manner.
The app allows the patient journey to be monitored and tracked across multiple touch points within the health and social care system, ensuring no one 'slips through the net'.
Richard Hammond said: "Bringing innovation, at pace, by combining BHNC domain knowledge with Appian expertise and our Low-Code Application platform has helped to bring to life a fit-for-purpose, intuitive and powerful solution to better protect staff and patients."
BHNC are working with other innovation partners across the UK to further develop the app to develop the social prescribing element and volunteering element to support the wider community whilst in lockdown and beyond and are in conversation with public health specialists to support the management of testing key workers .
Tumsilla & Darren described the uniqueness of the app as being able to support legacy systems and next steps are to start conversations for potential integration with EMIS and Liquidlogic.
To see the new app in action, view the following video demonstrations: