02 Jun 2020
GP's One-Man Crusade for NHS Staff and Care Workers during Pandemic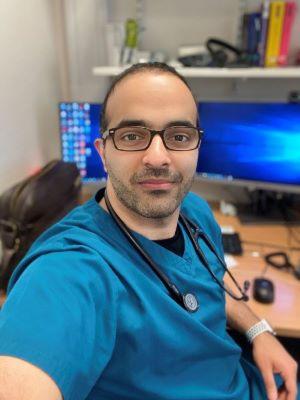 GP Haider Ali has stepped up to provide goody bags for care home workers and NHS staff forced to live away from home during the pandemic.
Haider, a salaried GP in Manchester, wanted to do something positive for frontline workers after a number of his GP colleagues died after contracting coronavirus, including much-loved GP Dr Saad Al-Dubbaisi, lead doctor at Garden City Medical Practice in Bury, who passed away aged 59 after he had been ill with the virus for a number of weeks.
Haider has set up a service, initially self-funded, to supply food and toiletries to health workers staying in hotels across Manchester.
Wearing PPE he paid for by himself, Haider started dropping off packages to NHS staff staying at Hotel Football, The Stock Exchange and Great John Street Hotel in the city centre.
More recently, Haider has been so moved by reports of care homes being abandoned during the crisis that he has extended his service to staff in these settings as well.
"I started to read more about what was going on in care homes and that care home workers are more than twice as likely to die of Covid as NHS staff. It appears they have been forgotten."
His care home crusade started in the penultimate weekend of May when he single-handedly delivered goody bags to eight nursing homes in Sale, Greater Manchester, with 120 patients and 25 staff between them.
Although welcome publicity in the national and local press initially won him overwhelming support and donations for his cause from the likes of Costa, Asda, Tesco, Vimto and Coca-Cola, he is now back to operating more or less as "a one-man band" and recognises that what he can do is "limited".
Happy to use his time away from surgery for a good cause, he joked: "During Ramadan there is nothing else to do! I can't eat!"
His packages include sweet treats like chocolate and cereal bars, multi-vitamin tablets, deodorant, hand sanitiser and moisturiser.
Although admitting to being exhausted by his venture, he added: "It is not just about being altruistic. If I can make somebody happy it is such a nice feeling. Doing something like this makes me feel good and I sleep better."
"Adjusting to coronavirus at work has been difficult," Haider told the Manchester Evening News.
"It has been a scary time and we have quickly had to change the way we work and see patients and that has taken some time to get used to.
"Unfortunately I do know a few colleagues who have died from coronavirus - the GP world is very close and everyone knows each other at least in passing.
"Some of my other colleagues have had the virus and have been in a bad way."
Haider has also started working Fridays for free at his surgery, saying: "I could have easily asked for money, but in the future, people are going to ask what I did during this pandemic and I don't want my answer to be about money."
Haider has been a GP for seven years and currently works at the New Bank Health Centre in Manchester.