02 Jun 2020
PCN's Virtual Postnatal Group a Lifeline for New Mums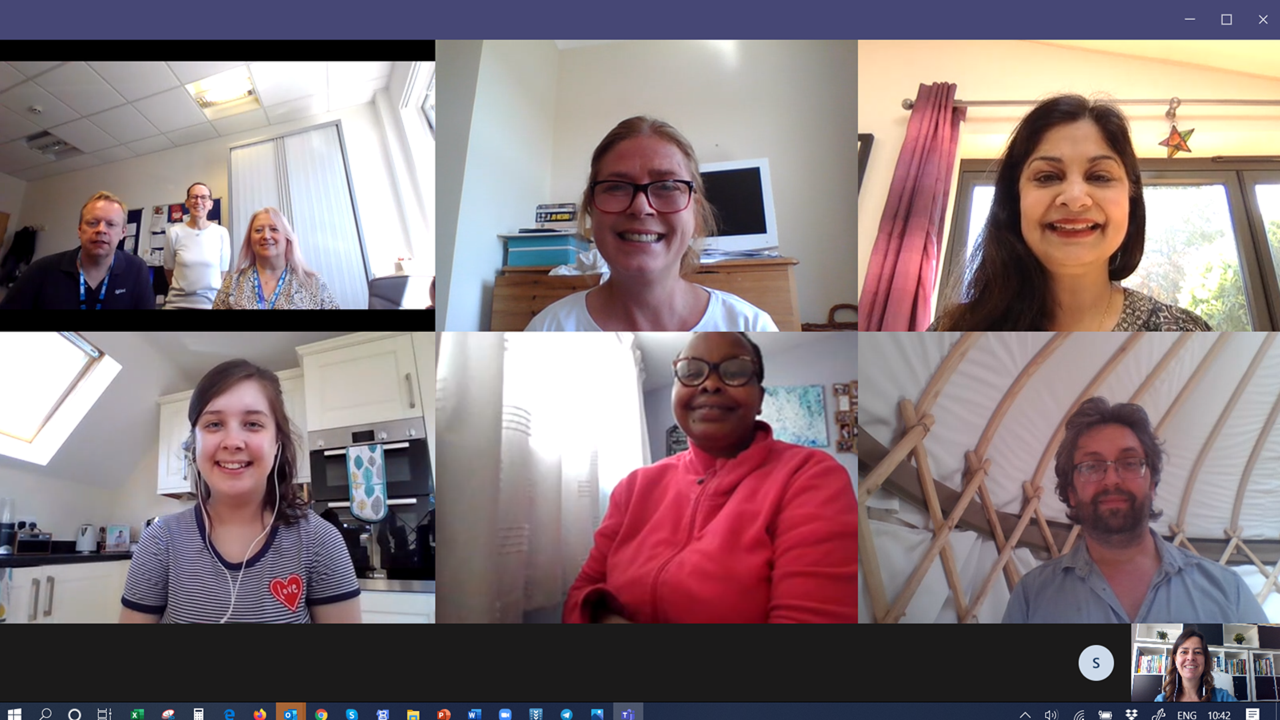 A virtual postnatal group has been launched across Wokingham in response to local safeguarding issues during lockdown.
In a first of its kind for Wokingham North PCN, the online group consultation for new mums was turned around in just ten days, thanks to the joint efforts of PCN co-clinical director Dr Rupa Joshi and her team (pictured).
The group was established in recognition of the challenges facing new parents during lockdown and the need to give them immediate support. Rupa said the group was essential for mums who are cut off from traditional support networks of family and friends due to social distancing.
The postnatal session on Microsoft Teams received highly positive feedback from its 26-attendees who said it made them feel "valued and supported".
Mums all consented verbally and via chat box to strict confidentially rules before the 1hr and 30 mins group consultation began.
During the session a health visitor tackled sensitive issues such as how to cope with uncontrolled crying in infants and signposted parents to further help. Mums were invited to take the Edinburgh Postnatal Depression Scale questionnaire, enabling practices to follow-up individually with parents scoring 10 or higher. Plans are afoot to run another postnatal group in three months' time for the next cohort of new mums, and a separate group for parents of 3-6 month old babies.
Mental health impact of lockdown on children
Rupa also arranged a paediatric mental health group consultation online for parents at her Woodley Centre Surgery in Reading after an increasing number reported behavioural challenges in their children during COVID-19. Coinciding with national Mental Health Awareness Week last week, the virtual consultation was open to parents who had raised concerns and families of children on CAHMS waiting lists and vulnerable patient registers.
Before the pandemic struck, Rupa had already pioneered face-to-face group consultations in her practice, starting with paediatric asthma 18 months ago and expanding to diabetes, pre-diabetes, chronic pain and a PCN-wide fibromyalgia group.
Rupa said the response had been incredible with patients taking ownership of the chronic pain group, adding: "At the end of the day, personalised care is what the patient needs, something that we could miss in traditional 10 minute consultations which can often be rushed if a patient has multiple complex co-morbidities."
"The magic of group consultations is when patients start talking to each other and engaging. That is where the inspiration really happens. They often meet each other outside of the group consultation and form WhatsApp groups."
She admitted that group consultations had enabled her to see life more from the patients' point-of-view, enabling her to improve her own practice. For example, the end point of the chronic pain group had not been to reduce prescribing of opioids but through hearing patients exchange tips on how they cope day-to-day, even with simple tasks such as washing, she had developed the confidence to do just that.
Impact of group consultations on patients and the wider system
Group consultations in asthma at Woodley Centre Surgery had an immediate impact, with asthma-related A&E attendances among members dropping from 12 to zero in the winters pre and post-establishment of the group. GP visits also dropped significantly from nine patients attending three times or more to a total of zero attendances in this cohort. The number of patients requesting eight or more Ventolin inhalers in the space of a year went down from 18 to eight. The diabetes group saw an average HBA1c drop of 8 percentage points with the star patient dropping from 99 to 38.
When Covid-19 broke, Rupa and her team went virtual, starting with an online meeting for vulnerable adults with asthma. They invited shielded patients, those on three or more asthma medications, those who had received three courses of oral steroids within the last six months and recent hospital admissions. Rupa has also run online group consultations on anxiety with the help of her social prescribing link worker, health coach and mental health therapist.
Rupa, who is a faculty GP for "Time for care" and South East Region Representative on the NHS Confederation PCN Board, said the pandemic had really served to prove the power of the PCN model. Her PCN has been holding twice-weekly virtual meetings during the crisis to exchange ideas and concerns. The feedback from member practices is that the support has "Kept us all going".
She added: "My role as a clinical director has been to actively listen to the concerns of colleagues and act as their voice to help support them and our patients during this pandemic."
"We have evaluated what the needs are and acted promptly to address these using innovative ideas for change. These new ways of working will also help shape our Covid Recovery and Post-Covid phases."