10 Aug 2020
NHS People Plan: your summary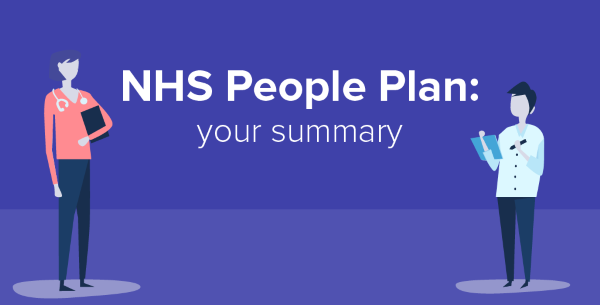 The main focuses for 2020-2021
The huge changes of recent months have also highlighted new opportunities and existing problems - which is what this plan focuses on:
The need to look after NHS people better, physically and psychologically

The need to create an inclusive organisational culture, where everyone feels they belong

The need to work in different ways - more efficiently, in a more generalist/cross-disciplinary way, making room for training

The need to prepare the NHS workforce for future change, through systems-level workforce planning, targeted recruitment and better retention
Read the full introduction here.
1. The need to look after NHS people better
This plan establishes the Our NHS People Promise. By 2024, the hope is that this is what everyone should all be able to say about working in the NHS. The annual NHS Staff survey will reflect this from 2021. You can watch a video of the long version or short version, or read it here.
Measures need to be taken to ensure:
People are safe and healthy. This is through things like infection control procedures, vaccination for frontline workers and PPE, as well as conducting risk assessments for vulnerable staff and ensuring safety from violence at work. Read more here.

People have support for physical and mental wellbeing. This is through steps like appointing an organisation wellbeing guardian, providing psychological support and space to rest, sick leave and workplace stress support. Organisations should also begin health and wellbeing conversations in appraisals, inductions and job planning meetings. Free parking and transport to work support is also included in this section. Read more here.

People can work flexibly. Whether the role is clinical or non-clinical, regardless of role, team, organisation or grade, flexibility should be considered the default, assumed from day 1 of a new role and can be requested without justification. E-rostering will be supported to help plan working patterns up to 12 weeks in advance. This should be supported and role-modelled by management. Read more here.
Human resources and organisational development professionals will be important in executing these steps. Read more here.
2. The need to create an inclusive organisational culture
The NHS needs to improve the sense of workplace belonging for all its people, and especially for BAME colleagues. Discrimination, violence and bullying must be eradicated.
Without an open, inclusive culture, the NHS will be prevented from:
achieving excellence in healthcare

identifying and using its best talent

closing the gap on health inequalities

achieving the service improvements that are needed to improve population health.
"If we do not role model this culture, then how can our patients expect to be treated equitably, and as individuals?"
NHS People Plan 2020-2021
To do achieve this culture, measures need to be taken to:
Examine the current state of diversity and inclusivity in the NHS and put steps in place to improve things. That's through things like reviewing recruitment, promotion and formal disciplinary processes, including staff networks in governance and agreeing accountability for progress. Read more at the bottom of the page here.

Make sure staff have a voice. This is through new surveys, as well as creating safety at work for staff to speak up about their concerns or suggest their ideas, and including staff insights in decision making. Read more here.

Support compassionate and inclusive leadership. This includes leadership development training and placements, more online resources and training for managers, tracking and measuring diversity metrics, and assuring accountability for those in leadership roles. Read more here.
3. The need to work in different ways
During the COVID-19 response, new teams formed around people's experience and capabilities rather than traditional roles and was critical to meeting the new challenge. People collaborated more with colleagues in social care and other sectors. More here.
The plan is to build on this adaptability to provide better patient care. That's through:
Supporting multidisciplinary working and development. This includes deploying staff safely, upskilling staff and increasing more generalist training to create more flexible teams, supporting online learning and creating primary care training hubs. Read more here.

Reconsidering how the NHS works with volunteers. That's through providing more long-term volunteering options, creating a training hub for volunteers, creating routes to employment for skilled volunteers and encouraging volunteering within the NHS. Read more here.

Returning to training, focusing on flexible skills. This involves restarting usual clinical training, using new funding to support continuous professional development, creating more placements, expanding e-learning and supporting more blended university courses. Read more here.
4. The need to prepare the NHS workforce for future change
This section divides into increasing the capacity of the workforce, and transforming the way it is planned and deployed.
Expanding skills in areas with the most pressing shortfall, through increasing training placements, releasing training grants and investing in new posts for mental health, cancer, general practice, advanced clinical practice, clinical pharmacist, nurses, midwives and others. Read more here.

Driving recruitment: locally, through apprenticeships, increased clinical support worker positions and the Additional Roles Reimbursement Scheme; internationally, through building partnerships with new countries, providing English language training, using the new Health and Care Visa and coordinating marketing efforts; and through encouraging former staff to return to practice. Read more here.

Doing more to retain people, by designing more varied roles, engaging people near retirement to encourage them to stay on, facilitating opportunities for staff to retire and then return to work, and ultimately making the NHS a better place to work. Read more here.
Systems will be the main drivers of understanding any gaps between workforce supply and demand, increasing alignment, resilience and capability, and deploying people accordingly.
That will be achieved through:
Workforce planning and transformation. This includes connecting workforce planning to financial plans and clinical strategies, developing workforce models based on competencies, and collecting better workforce data to support transformation. Read more here.

Recruiting and deploying staff across organisations. This includes recruiting from broader sources, making full use of staff banks to fill gaps, enabling easy movement across organisations and digital staff passports to allow people to carry their credentials on their smartphone. Read more here.
Next steps
For immediate actions, watch this 3 minute video from NHS England and NHS Improvement, or this 1 min 30 video for steps beyond the immediate future.
We've also collated actions from the People Plan itself below.
Develop a local People Plan in response to this

Make sure your plans for stepping services back up focus on looking after NHS people, align with service and financial plans, and are developed alongside partners

Review how you can work with other sectors, especially with social care

Review your local workforce position with providers and implement arrangements to increase resilience and capability
Details at the bottom of this page.
Read through the actions included in the plan, and consider how you can support them or make the most of the resources provided:
Why we care about the NHS People Plan
Mobilised by the huge change during COVID-19, much of the Plan's focus lies in supporting NHS people better and enabling better ways of working.
Practically, that's achieved in part through measures like staff banks, e-rostering to help people plan their working patterns and highly informed workforce planning.
At Lantum, we created our first staff banks in 2015 with Tower Hamlets CCG, and have gone on to roll out over 130 more staff banks since. That means services that are more resiliently and efficiently staffed, by people equipped with greater work flexibility, and run with transparent insight across workforce data and trends.
We truly believe these will boost greater resilience and capability within the NHS through the pandemic, as well as to lay solid foundations for the organisation in the future.
This People Plan is a result of comprehensive work between a huge number of stakeholders within the NHS. Clearly, the desire for progress and transformation is there; now it's time to make it happen.
Request a call with us for a no-obligation discussion on what the People Plan means for you, or email enquiries@lantum.com.