09 Sep 2020
The Business of Healthcare Scholarship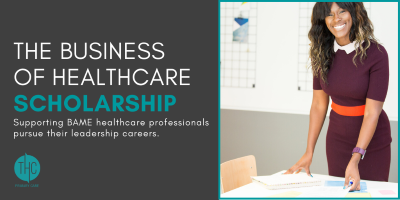 Primary Care business owner, Tara Humphrey, has achieved huge success from launching a new scholarship fund to support BAME healthcare professionals pursue their leadership careers.
Tara Humphrey runs her own business, THC Primary Care, and was recently moved by the Black Lives Matter movement. Tara wanted to do something pro-active to address the lack of BAME representation in senior roles within the healthcare sector and decided to create The Business of Healthcare Scholarship, a scheme that is fully funded by Tara herself.
Tara says "As a black female and small business owner operating in the field of healthcare, I want to support professionals passionate about making their mark in this amazing yet challenging sector, just like I am striving to do.
While there is a tremendous amount of work to do, I believe no matter how small our individual actions may be, we can use our voices, platforms, networks and resources to support, empower and promote others to pursue the careers they are passionate about and increase the number of BAME healthcare professionals in leadership positions.
I believe that to be the best leaders we can be, we need to invest in our personal and professional development, which is why I decided to launch the scholarship scheme."
The Scholarship provides grants that can be used towards a training course, mentor or coach. It launched for the very first time this July and received 34 applications. Tara received so much positive feedback from other healthcare professionals who wanted to support the scheme too, that she introduced a coaching offer where she matched the 16 professionals to a candidate to support. Tara has also been approached with Corporate Partnership deals.
In total, the scholarship is supporting 21 people to pursue their leadership careers.
The Business of Healthcare Podcast with Tara Humphrey
Tara is host of the podcast which looks behind-the-scenes at the business side of healthcare by talking to NHS and private healthcare leaders, whilst sharing her own project management and leadership insights. Tara also has an MBA in Healthcare Leadership and Management, is published in the London Journal of Primary Care and is author of over 150 blog articles.
Listen to The Business of Healthcare Podcast: https://bit.ly/BoH-Podcast
THC Primary Care is Tara's company that works with busy primary care leaders to support the delivery of their network-based contracts & Primary Care Networks. Tara has provided project management support to 11 Training Hubs across, 3 GP Federations, 12 PCNs and NHS England supporting over 450 practices to date. Find out more about Tara and THC Primary Care: www.thcprimarycare.co.uk/service