17 Feb 2021
Macmillan launches Emotional Health and Wellbeing Hub for Health and Care Professionals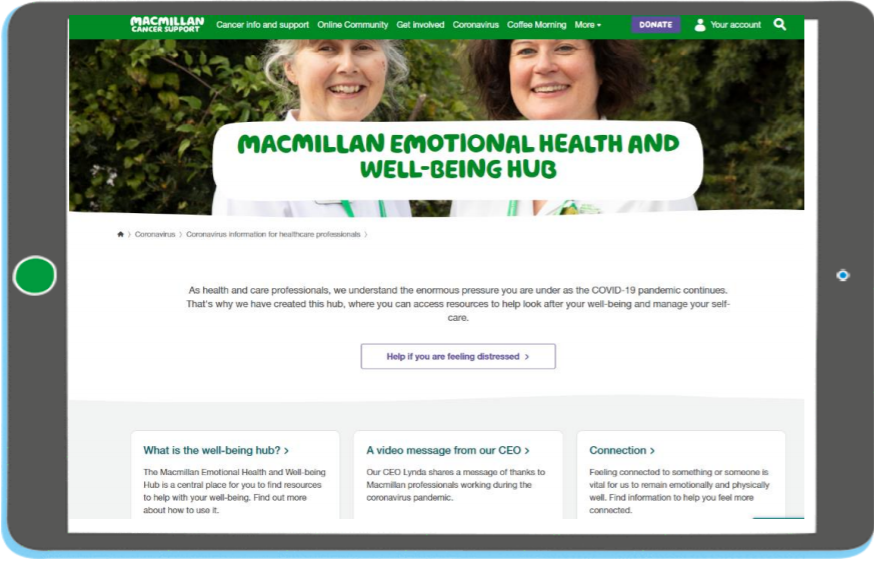 At Macmillan Cancer Support, we know that it's tough for health & care professionals right now. We can't be on the front line with you, but we're here to help support your wellbeing & resilience with a range of resources.
As healthcare professionals, we understand the enormous pressures you are under as the COVID-19 pandemic continues. It is easy to be so focused on the people you support, that you forget to look after yourself. That's why we have created the Macmillan Professionals Well-being Hub, as a central place to be able to easily access resources to help you strengthen self-care and look after your own well-being. You can visit this hub any time you need to and bookmark the page to easily come back to it.
Resources included on the hub cover five main topics:
We understand that life can be busy, and you may not have the time to read everything. We have therefore compiled a list of our Top Tips for looking after your emotional and physical health. We hope that you find it useful.
Our Thought for the Day calendars have been created to help you find something to support your well-being every day for a month. Each week we will provide you with a new calendar, you can access week 1 here.
We have created a poster so that you can share our resources with others who may need it. You could place this poster in a staff room, GP practice or anywhere you think someone may benefit from it.
We'll be working to bring you more content each week including links to interesting Ted Talks, Webinars, Podcasts and suggested reading to help support all professionals to have access to the support they need, now and in the future.