11 Nov 2020
Best Practice Live receives high praise from the general practice and primary care community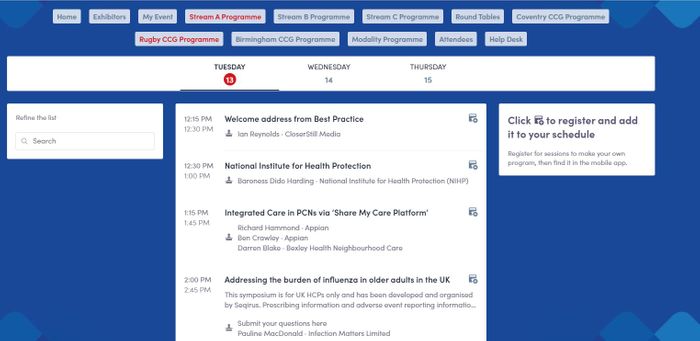 Almost 3,000 healthcare professionals registered for Best Practice Live, CloserStill Media's first-ever virtual Best Practice conference and Europe's largest online event for general practice and primary care professionals, which took place on the 13th, 14th & 15th October 2020.
The event, which was free-to-attend for all public sector and healthcare professionals, included over 70 expert led presentations, 125 participants on average per session and 39 industry exhibitors.
CloserStill Media, organisers of the Best Practice Show, wanted to create the perfect adaption of their in-person show, delivering a seamless event experience – but online, so attendees could participate from the comfort of their own homes, practices and offices.
The benefits of hosting Best Practice Live on a virtual platform meant delegates could meet virtually and engage with all attendees including industry suppliers, thought leaders and expert speakers virtually, interact in a number of chats simultaneously and reach new targeted contacts straight away via the inbuilt AI-matchmaking capability.
The platform hosted 6,740 discussions, 777 messages were exchanged and an average duration of calls 45:33.
The feedback received so far has been overwhelmingly positive. Below are some testimonials about the Best Practice Live experience:
"In these uncertain times, I was still able to attend Best Practice Live 2020 even though it was from the comfort of my home. Well done Best Practice."
"Appreciated the ability to dip into the sessions at times that suited me. Liked the personal plan I devised and the reminders."
"It was the first one I attended and it was brilliant. I would highly recommend this."
"Virtual but much better than I expected and environmentally friendly too!"
"Very informative and interactive. It is good to have the sessions available until December so that I can revisit anything I missed."
"A great way to hear up to date advice from some great speakers in short lectures and ask questions afterwards in chat rooms."
"Three whole days filled with exciting new and updated information about products, happenings, conditions, ideas and so much more. Thank you. "
"Easily accessible & extremely interesting speakers. Particularly enjoyed the seminars on Diabetes, Parkinson's Disease, Endometriosis & Coeliac Disease."
Best Practice Live will be available until Christmas for all registered attendees to watch sessions back on-demand here. Those that haven't registered yet, can do so here to access the content until Christmas as well.
-ENDS-
CloserStill Media, specialise in global professional events within the healthcare and technology markets. The healthcare portfolio includes some of the UK's fastest-growing and award-winning events, such as Health Plus Care, The Clinical Pharmacy Congress, The Dentistry Show, The Pharmacy Show and Acute & General Medicine.
It is a market leading innovator. With its teams and international events, it has won multiple awards, including Best Marketer – five times in succession – Best Trade Exhibition, Best Launch Exhibition, and Sunday Times Top 100 Companies to Work For – four years in series – among others.
CloserStill Media delivers unparalleled quality and relevant audiences for all its exhibitions, delivering NHS and private sector healthcare professionals from across occupational therapy, pharmacy, dentistry, primary and secondary care with more than £16m worth of free training.
For more information please contact:
Exhibition and speaker enquiries: Ian Reynolds - i.reynolds@closerstillmedia.com
Marketing enquiries: Shannon Cargan - s.cargan@closerstillmedia.com