05 Sep 2023
The First Episode is Out! The Business of Healthcare Podcast in Partnership with Best Practice Birmingham.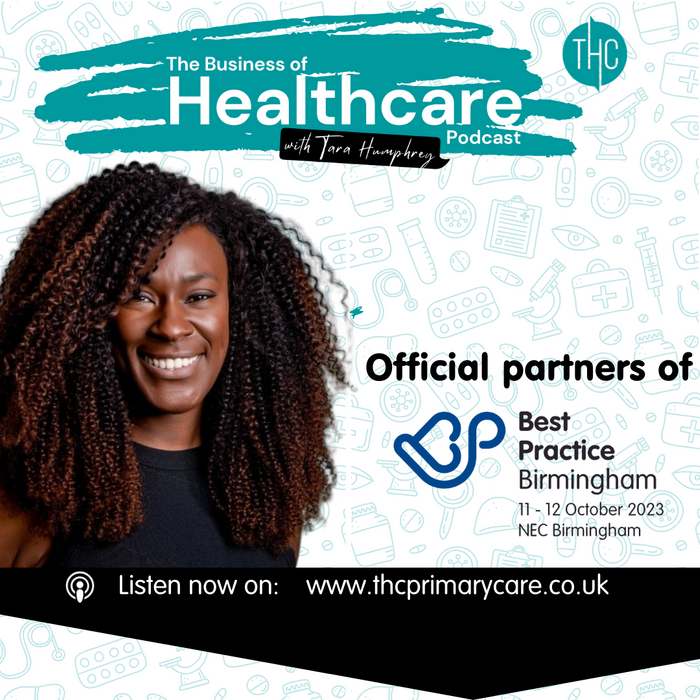 The inaugural partnership episode between Best Practice Birmingham and The Business of Healthcare Podcast has set the stage for an enlightening series that promises to inspire and educate. In this episode, we had the privilege of tuning in to a captivating conversation between Tara Humphrey and Dr. Minal Bakhai, the National Director for Primary Care Transformation for NHS England, a respected GP, and a NICE Expert Advisor. Their insights and approach to transforming primary care left us feeling not only informed but deeply inspired.
One of the most striking aspects of this episode was Dr. Minal Bakhai's unwavering commitment to making positive changes within primary care. Her dedication to working with deprived areas and her focus on fostering commitment rather than mere compliance are truly commendable. She shared invaluable strategies for implementing tools that enhance the experiences of both staff and patients alike.
Dr. Minal Bakhai emphasised the importance of including those who face daily challenges in the decision-making process, highlighting that their opinions and perspectives are invaluable in driving meaningful change. Her positive outlook on managing negativity resonated with us, as she emphasised that feedback is a source of valuable data to shape the patient experience. She wisely advised to focus on remarks that inspire change and innovation, rather than getting caught up in those that don't.
Beyond her professional insights, Dr. Minal Bakhai offered a glimpse into her personal life, revealing her journey from being an RAF pilot to her current role. She candidly discussed the challenges of maintaining work-life balance, especially as a devoted professional. Her colleagues' descriptions of her as motivating and encouraging underscored her remarkable leadership qualities.
The episode also delved into the intriguing topic of achieving success while maintaining a healthy work-life balance. Tara Humphrey and Dr. Minal Bakhai explored the idea that many individuals tend to go above and beyond the call of duty, and the podcast served as a platform for discussing collaborative approaches to distributing workloads efficiently.
Additionally, the conversation touched upon the importance of the recovery program within primary care and the merits of adopting modern approaches to healthcare. Dr. Minal Bakhai's endorsement of the General Practice Improvement program as a valuable resource for those facing challenges in the field was both insightful and helpful.
The first partnership episode between Best Practice Birmingham and The Business of Healthcare Podcast offered a refreshing and empowering look into the world of primary care transformation. The conversations evoked wisdom, dedication, and a positive outlook left us inspired and eager for more. This episode marks a great start for more to come, and a look into the expertise that will be shared at the upcoming Best Practice Birmingham event.
We eagerly await future episodes that promise to shed light on innovative solutions and success stories within the healthcare industry. This podcast provides insight into just a small part of the world class talks that you can be a part of at Best Practice Birmingham and is a must-listen for anyone seeking inspiration, guidance, and a deeper understanding of the evolving landscape of healthier.
Want to hear more about improving access and top tips for PCN management? Dr Minal Bakhai will be hosting a session in our Best Practice Keynote Theatre on 'Implementing Modern General Practice Access'. The Business of Healthcare Podcast host, Tara Humphrey is also the chair of the PCN Transformation Theatre and will be delivering a session about accelerating your PCN, 'How to Herd Tigers: Top Tips to Move your PCN Forward'.
Register for your free delegate pass for Best Practice Birmingham and don't miss out on these invigorating talks.
Listen to the episode here.
Don't forget to subscribe to The Business of Healthcare Podcast as to not miss out on these twice weekly, inspiring discussions (link or link in comments)
We're looking forward to the next episode in this series and hope to see you at Best Practice Birmingham, 11-12 October.