08 Sep 2023
The next installment of The Business of Healthcare Podcast in partnership with Best Practice Birmingham is here!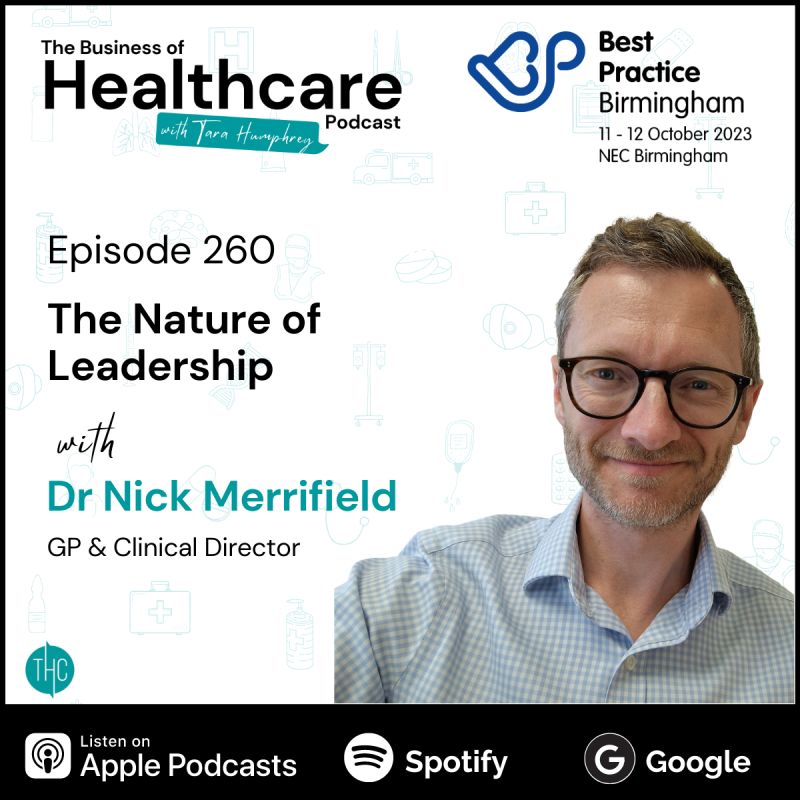 The Business of Healthcare Podcast, in partnership with Best Practice Birmingham, has released its second episode featuring the infectiously positive Dr. Nick Merrifield. Dr. Merrifield, a multifaceted individual, serves as an NHS GP in Kingston, South West London, and is "a man of many hats" including roles within Kingston GP Chambers, PCN Clinical Directorship, and Kingston Place-based Primary Care Development Leadership. Beyond his professional roles, he is a husband, a father, a violinist, and an overall breath of fresh air.
In this episode, Tara and Dr. Merrifield dive into the world of Primary Care Networks (PCNs), discussing their challenges, exciting projects, and the envisioned future. Dr. Merrifield approaches PCNs with a resilient optimism, acknowledging the difficulties while highlighting the silver linings. He sees the dynamism and innovation within primary care as a foundation for shaping the future. Do you share this optimistic outlook, or do you have some reservations? Dr Merrifield will be sharing his 'reasons to be cheerful' at Best Practice Birmingham, so it won't be one to miss if you're in need of an uplifting perspective.
One of the pivotal challenges he highlights is the development of access services. Navigating this landscape is complex but holds the key to a brighter PCN future. Dr. Merrifield emphasises that successful PCNs excel in collaboration, working cohesively with community organisations. The Fuller report's focus on integrated neighbourhood teams is a topic of discussion, recognising that achieving complete organisational synergy takes time. Dr. Merrifield suggests starting small with specific collaborative projects to build a more cooperative future. Have you read the Fuller report yet? Professor Claire Fuller will also be speaking at Best Practice Birmingham, which we're sure will be an insightful and engaging session.
He shares a success story of collaboration with various organisations, particularly for the carer community. Driven by feedback and recognising the need for support, he secured funding from the ICS and organised a support event involving nine organisations with a turnout of 130 people. This initiative has now evolved into a monthly support event, demonstrating the transformative power of support, community, and collaboration in healthcare improvement.
Maintaining the energy to build such support networks and strive for improvement, Dr. Merrifield credits the effective structure of PCNs, which allows tasks to be distributed efficiently. Investing time in building relationships with other practices is equally crucial. Regular one-on-one check-ins with board members and frequent meetings to discuss plans and gather different perspectives are part of his strategy. Dr. Merrifield highlights the importance of strong teams across various sectors, such as HR, communications, finance, and project management, in creating space for meaningful community partnerships.
When asked about team encouragement and cohesion, Dr. Merrifield acknowledges that not everyone shares the same level of enthusiasm. His advice emphasises listening, empowering, and supporting junior team members, as they represent the future leaders. Despite challenges like disagreements and staff turnover, maintaining a broader perspective and a continuous network of support is paramount. His unwavering positivity will leave you more inclined to focus on the potential of the future rather than current set backs.
The conversation with Tara also delves into the future of PCNs. Dr. Merrifield anticipates a bright future, especially as GP Federations and PCNs collaborate more closely, bringing diverse contributions to the community. He envisions primary care being asked to take on more responsibilities as healthcare shifts away from hospitals to community providers. While the future of Primary Care remains a work in progress, there is hope for transformative change and development.
In conclusion, Dr. Nick Merrifield's infectious optimism and innovative approach to Primary Care Networks are indeed worth looking forward to at Best Practice Birmingham. We're very much looking forward to learning more about what Nick has to say at Best Practice Birmingham because if anyone can give us '3 Reasons to be Cheerful' it's him!
---
Listen and subscribe to The Business of Healthcare Podcast
Register for your FREE delegate pass to Best Practice Birmingham