20 Sep 2023
A very special episode of The Business of Healthcare Podcast: Our Keynote Theatre Chair and some exciting news...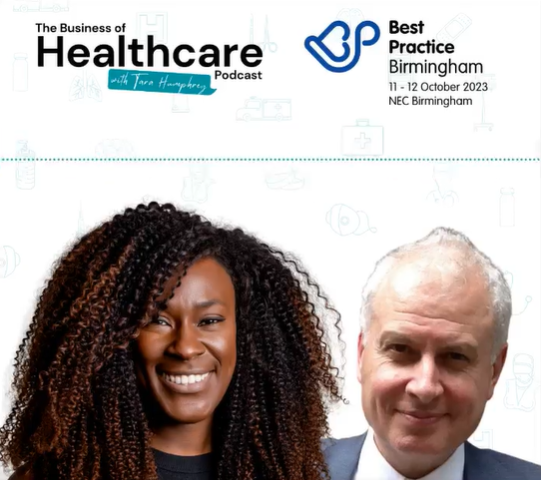 Before we go into our review of the latest episode of the Business of Healthcare Podcast, we can't keep quiet any longer - Best Practice Birmingham, reveals some fantastic news - a live round table discussion is on the horizon! This is a FIRST for both Best Practice and The Business of Healthcare Podcast. Unfiltered conversations from the best in the industry. Hosted by Tara, it's your golden opportunity to join the conversation on "Planning in an uncertain future." Expect real-time insights from Dr. Hussain Gandhi, Dr. Andy Foster, and Dr. Farah Jameel. It's a groundbreaking moment for The Business of Healthcare podcast and Best Practice Birmingham – this is an event you absolutely won't want to miss! Make sure you register now for this groundbreaking event within Best Practice Birmingham! There's still time to secure your pass so don't delay…
Now we'll talk about this episode of The Business of Healthcare Podcast that's sure to give you an insightful boost! Tara is joined by the extraordinary Professor James Kingsland OBE, a healthcare luminary with years of experience under his belt. He's about to drop some serious wisdom on succession planning, the future of primary care networks (PCNs), and the secrets to crafting a jaw-dropping portfolio career. Sound good to you? Read on for our review but don't forget to listen.
James is all about leadership with a purpose – a mission driven by skills, values, and sheer passion. But that's not all; he emphasises the critical role of building a robust foundation, both personally and professionally, to steer your career towards greatness.
Intriguingly, James doesn't just bring expertise to the table; he also adds a dash of humour. Get ready for a rollercoaster of insights, spiced up with laughter and entertainment, which we can't wait to see bought to life as we welcome James as the chair of the Keynote Theatre at Best Practice Birmingham.
Back to the podcast, James isn't just about work. He's a strong advocate for being a good human and has actively worked on addressing health inequalities throughout his illustrious career. He has also been the mastermind behind some thrilling initiatives, including the Complete Care Community program and a cutting-edge digital clinical excellence forum. Is the digital sector the future of PCNs?
James shares his journey from clinical practice to setting up the National Association of Primary Care, shedding light on the importance of creating opportunities for the next generation. James believes in empowering junior roles as they are the future of healthcare. He urges individuals to step up, take on leadership roles, and embrace accountability and responsibility, fostering mutual respect within organisations. It's refreshing to see the encouragement for the juniors of the industry, inspiring them to want to be the future!
Balancing online work with hands-on practice is no easy feat. James offers insights into his own transformation and asks you: Have you found that elusive work-life balance?
Discover James's secret sauce for making tough decisions – it's all about aligning with your values, assessing enthusiasm, and matching your skill set. Plus, he's not in it for the money; he's all about projects that ignite his passion.
The world of PCNs is buzzing, and James delves into their challenges and opportunities. Teamwork is paramount, and James believes that different sectors, including GPs, health, and social care, must collaborate seamlessly. Are PCNs failing? James gives a nuanced perspective.
Professor James Kingsland OBE leaves us with a treasure trove of insights, from succession planning to PCNs and portfolio careers. His passion for healthcare shines through, and he's on a mission to make healthcare better for all. We love his passion and dedication and we can't wait to have him share his expertise after 40 years in the industry, we're looking forward to welcoming both James and all of you through our doors in just a few weeks' time, so don't forget to register!
---