30 Aug 2021
The new MDT roles – are you getting the gain without the pain?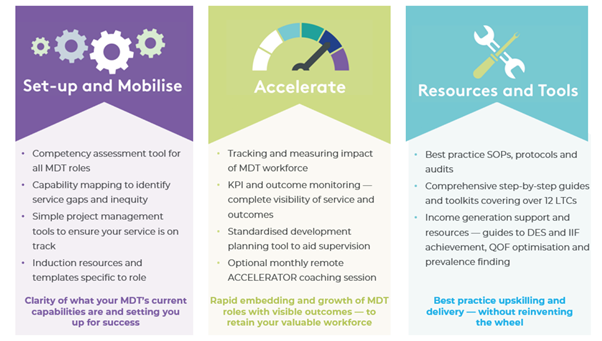 Never have there been more new roles invested into primary care with such diverse skillsets and so much expectation. How PCNs recruit and mobilise the growing workforce to set them up for success and how you develop them to release GP time is more than a growing pain. The challenges of supporting, supervising and embedding the new ARRS workforce is perhaps not new to PCNs, but the scale of the challenges really is.
Recruiting these roles is already difficult and if PCNs don't get it right first time, many will find these roles being poached or the team members seeking roles elsewhere. There is nothing more frustrating or disappointing for Clinical Directors and Business Managers than losing the MDT workforce after all that upfront time and effort invested in inducting, training, and developing the roles. We have already experienced this with some of the earlier adopted MDT roles such as clinical pharmacists who are now named on the government's shortage occupation list and are rapidly "PCN-hopping" as they are more able to pick and choose the PCNs they want to work in.
Most healthcare professionals coming into primary care want to grow, develop, and improve patient care. However, the main rate-limiting factor for these more novel and less familiar roles such as care navigators, social prescribers, first contact physios is that many of their line managers within PCNs, through no fault of their own, simply don't know what they don't know. If you are not sure what to expect from a new post, how to assess their competence or how to support their development needs. This results in the new personnel arriving at a role and the managers not knowing what to ask of them and the staff not knowing what they don't know
Is this PCN pain inevitable or can you alleviate it?
It really doesn't have to be this way. A structured competency framework for every ARRS and other primary care role can rapidly accelerate the process and helps both the line manager understand what to expect and helps the new primary care staff member to self-assess. Jointly they can develop a clear and structured development plan which aids the integration and value of the role straight away. Best of all, being able to customise your requirements and map your workforce as a collective is powerful; this helps you define what role to invest in next. Is it really a clinical pharmacist your population needs or is it a health coach to support with life-style advice?
Soar Beyond's SMART workforce platform relieves the pain and effort using an interactive circle of competence tool that can be customised for any primary care or HCP role. SMART is already used in over 450 practices and is helping the wider team know who best to triage and refer to within the MDT. 92% of SMART users rate the competency tools as valuable or extremely valuable and this will help PCNs grow, integrate, develop, and retain these valuable members painlessly.
Come and visit us on stand F84 or hear a case study of how we have done this in a PCN, by attending our session on "Framework and Case Study for Competency Mapping your ARRS Workforce" at 3:10 pm on 13th October 2021, PCN Transformation Theatre, or find out more information on www.thesmartworkforce.com