Contracts in primary care– How? Why? Which? Traps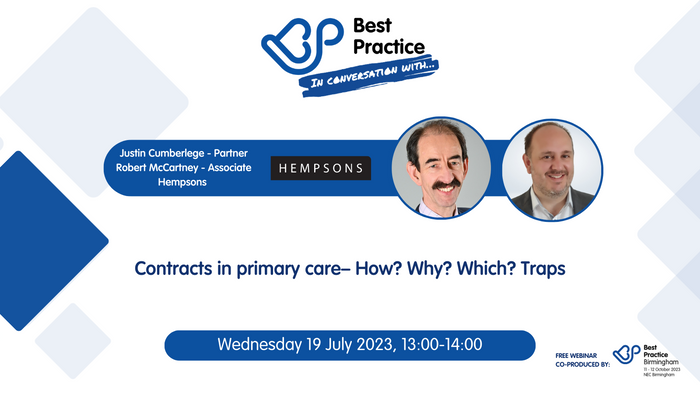 A Best Practice webinar sponsored by Hempsons
Relationships drive primary care. Traditionally practices have relied on informal agreements but the increasing complexity of how services are developing, especially with PCNs, has made formal contracting essential.
This session will consider the importance of written contracts and the NHS templates. It will consider schedule 7 of the Network Agreement and expanding your network. It will also identify common traps, how to avoid them and how to access NHS pensions.

Delegates will, at the end of the webinar:
- understand why contracts are needed,
- how they are created, and
- which ones to use.

They will learn about the NHS contract templates.
Agenda
Understanding why contracts are needed
Creation of contracts
Which contracts to use
What to look out for
The NHS standard contract templates
Presenters
Justin Cumberlege
Partner
Justin is a partner in the Hempsons primary care healthcare team, and has 30 years' experience. Justin's healthcare and public sector focus encompasses advice on governance and commercial issues for primary care networks (PCNs) GP alliances and federations and GP partnership issues, including mergers and disputes. He was at the forefront of setting up PCNs and now as they mature, in developing them into sustainable organisations for the future.
Robert McCartney
Associate
Robert is an associate in the corporate commercial team who specialises in advising primary and community care providers.
He has worked in-house within the NHS including at a community trust, a large-scale GP practice, and an urgent care provider, and has built a practice advising practitioners on developing working at scale services including GP federations, Primary Care Networks (PCNs) and practice mergers.