When things hit the fan" Tips for successful frontline crisis communications in general practice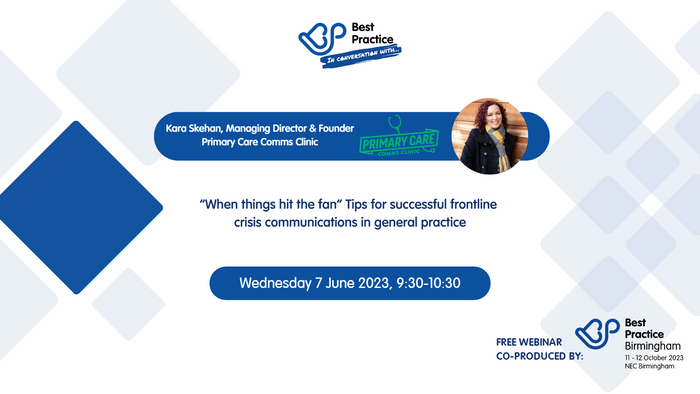 A Best Practice webinar sponsored by Primary Care Comms Clinic.
You're not on the frontline but the GP practice looking to you for crisis communications support is. Be prepared with this ICB crisis comms webinar.

General practice continues to be the busiest part of the NHS, delivering nearly a million appointments a day. From minor illnesses to full-scale breakdowns, GPs, nurses and a whole range of healthcare professionals, backed up by their ever-dedicated practice managers, reception and admin teams, are caring for more patients than ever.
Things can and will go wrong.
Tech malfunctions, human errors, vandalism, floods and even death threats have plagued poor practice teams when they're already up against it all. In this session, we explore what GP practices really need from ICB comms teams when "things hit the fan".
Agenda
Take a look through some of the most common and potential crises that happen within general practice.
Explore the challenges practice teams face at each stage of a crisis and ways you can support them rapidly and reassuringly.
Practical things you can do to help storm-proof practices before "things hit the fan".
Presenter
Kara Skehan
Managing Director & Founder
Friend and fighter for primary care and fierce comms advocate, Kara Skehan is an award-winning healthcare communications specialist helping frontline teams to communicate well, with warmth and without worry. Kara and her team provide training, communications toolkits and support to practices, primary care networks and GP federations across the country.